Hi Friends!

It's been quite a long, long while since I've written about forgiveness based money.
By re-tweeting this appeal to @TeamYouTube I am hoping to solidify public condemnation of YouTube/Google/Alphabet for it's role in killing millions of people through a pro-vaccine agenda. Also condemning them for defamation of me and the doctors who were on my show.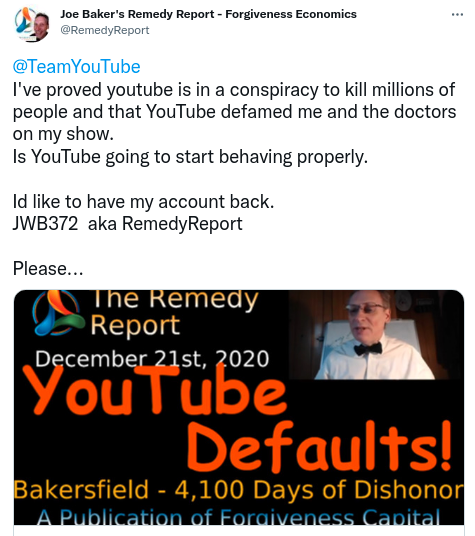 To balance the scales my forgiveness of their heinous behavior has cost me 240 Quintilian dollars. This value has become an a secondary basis for the AntiMoney crypto currency.
The problem of course is that YouTube is continuing this heinous behavior every day that my accounts REMAIN closed. And every day that ALL CENSORED ACCOUNTS REMAIN CLOSED

I hope to see you daily at FB.com/RemedyReport

Let's talk anytime I'm at 262-806-8031
Regards,
Joseph William Baker (TM)